A new student community in the heart of campus
Experience the newest addition to campus living - Gordon Village, an amenity-rich community that opened to students in Fall 2008.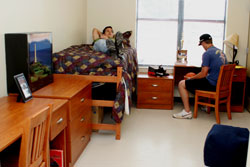 Attending college is more than just academics and earning a degree. It's about making new friends. Enjoying new independence. Even learning about yourself.
Living on campus gives you a chance to do all of that and more. Gordon State College has created a campus living experience that is personally transforming - and a whole lot of fun.
To meet the growing demand for on-campus housing, Gordon State College opened Gordon Village in Fall 2008. The co-ed residence hall - open to all students - is located in the heart of the Gordon campus, right behind the Academic Building and Fine Arts Buildings. With room for 400 students, Gordon Village is the college's largest student community to date.
What you'll get at Gordon Village:
Internet, local phone service, cable TV and utilities (all included in the housing fee!)
Single or double bedrooms with bed (3/4 extra long twin), desk, chair and closet space for each student
Free laundry facilities
Fully equipped study/computer labs
TV lounges
Convenience store located in the building
Bistro/cafè food service with inside and outside patio dining
Gordon Village is the only residence hall to offer a variety of living options. With 160 rooms to accommodate 400 students, you can choose one that fits your needs:
One double bedroom with bath - 40 units
Two single bedrooms with bath - 80 units
Two single bedrooms with kitchenette and bath - 80 units
Everything is close by...
Gordon Village gives you fast access to campus amenities, such as the gymnasium, indoor pool, walking track, ropes course, cafeteria (meal plan required for residents) and student center lounge. Classroom buildings are also nearby.
A safe place to live...
Gordon prides itself on making sure its residence halls are secure. Beginning Fall 2008, all residence halls are in the process of being upgraded (in phases) with the ID card security access system. In addition, Gordon State College offers campus security 24 hours, 7 days a week. Each residence hall also has live-in staff assistance.
Unit Plans
One double bedroom - one bath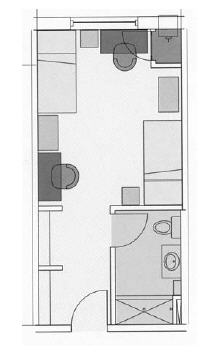 Two bedroom - one bath
Two bedroom - one bath with kitchenette
Room Measurements
| GORDON VILLAGE | |
| --- | --- |
| FLOORS: | Beige tile with accent colors |
| WALLS: | Green/Rust/Yellow |
| BEDS: | 3/4 size (extra-long twin sheets fit) |
| MATTRESS MEASUREMENT INFORMATION: | 79" Long X 35" Wide X 7" Thick |
| | |
| DBL w/BATH Windows: | 5'10 X 5'5 |
| DBL w/BATH Bedrooms: | 25' X 12'4' |
| | *BEDROOM CLOSET: 4'8" X 2'2" (D) |
| | |
| 2 BR w/BATH Windows: | 5'10 X 3'5" |
| 2 BR w/BATH Bedrooms: | 16'6 X 6'3" |
| | *BEDROOM CLOSET: 6' X 2'3" (D) |
| | |
| 2 BR w/BA/KT/LR Windows: | 5'10" X 2'6" |
| 2 BR w/BA/KT/LR Bedrooms: | 12'2"X 7'10" - 10' |
| 2 BR w/BA/KT/LR Commons: | 19'11" X 8'9" |
| | *BEDROOM CLOSET: 4'3" X 1'7" (D) |