Gordon State College to Host Third Annual Legacy Lecture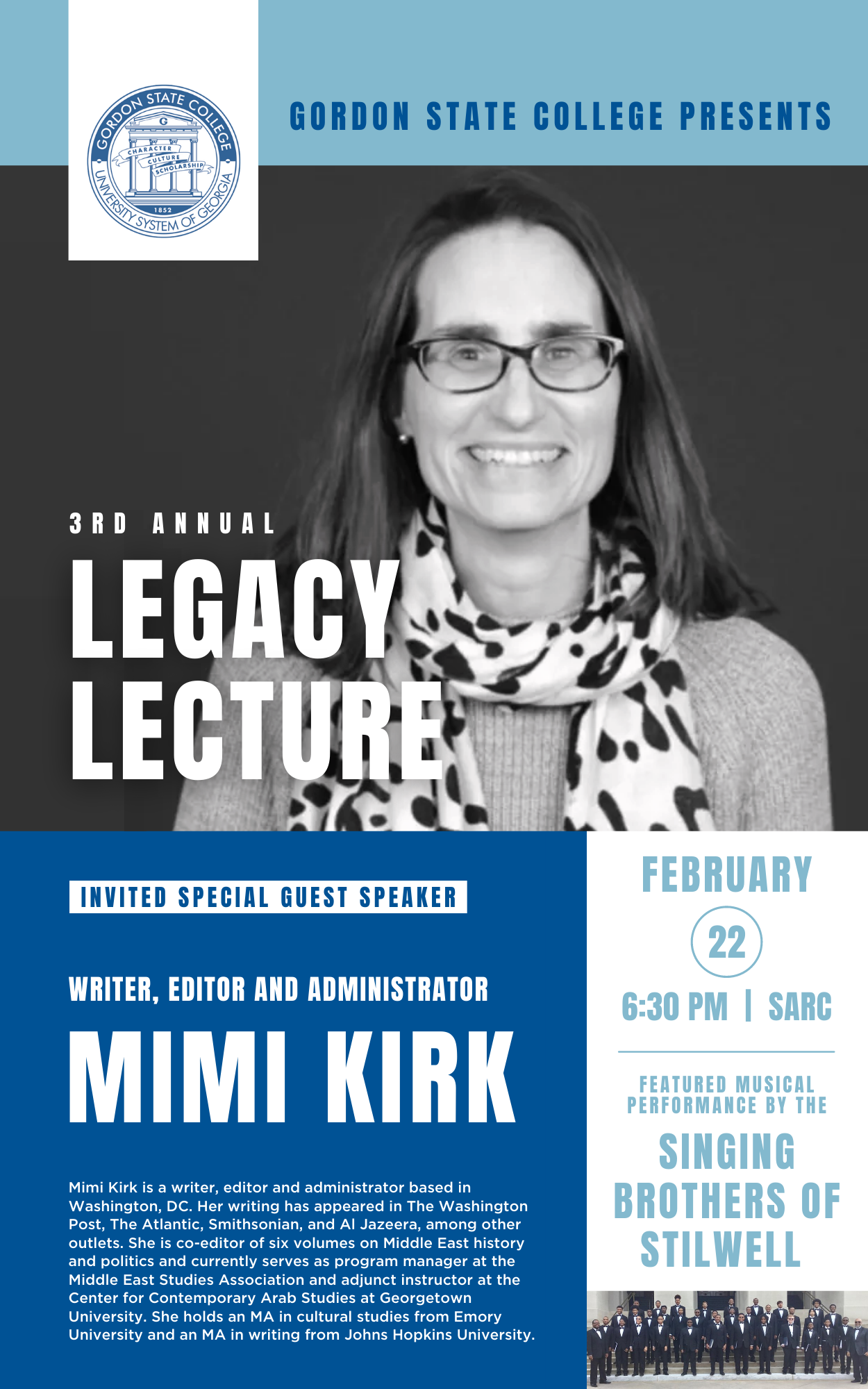 Gordon State College is honored to host its third annual Legacy Lecture on Tuesday, February 22 with featured guest speaker Mimi Kirk, a writer, editor and administrator based in Washington, DC.
This special event begins at 6:30 p.m. and is being hosted by GSC to bring the community and campus together for an evening of music, reflection and leaving a lasting legacy.
Kirk's writing has appeared in The Washington Post, The Atlantic, Smithsonian, and Al Jazeera, among other outlets. She is co-editor of six volumes on Middle East history and politics and currently serves as program manager at the Middle East Studies Association and adjunct instructor at the Center for Contemporary Arab Studies at Georgetown University. She holds an MA in cultural studies from Emory University and an MA in writing from Johns Hopkins University.
Kirk is also a descendant of John B. Gordon.
The featured musical guests will be the Singing Brothers of Stilwell, the award-winning male choral group from Martha Ellen Stilwell School of the Arts in Jonesboro, GA.
"This year's Legacy Lecture continues to elevate the vision for the program. Ms. Mimi Kirk has a national impact with a local tie. In addition, the well-recognized voices of the Singing Brothers of Stilwell will certainly make the evening memorable. We are delighted to make this level of programming available to faculty, staff, students and our community," said GSC President, Dr. Kirk A. Nooks.
GSC faculty, staff and students, as well as members of the Highlander community, will be able to attend in-person while practicing social distancing at the Student Activity and Recreation Center on the GSC campus.
Anyone interested in attending may contact the GSC President's Office at: OfficeOfThePresident@gordonstate.edu for more information.