Gordon State College Class of 2020 Celebrates Via Virtual Commencement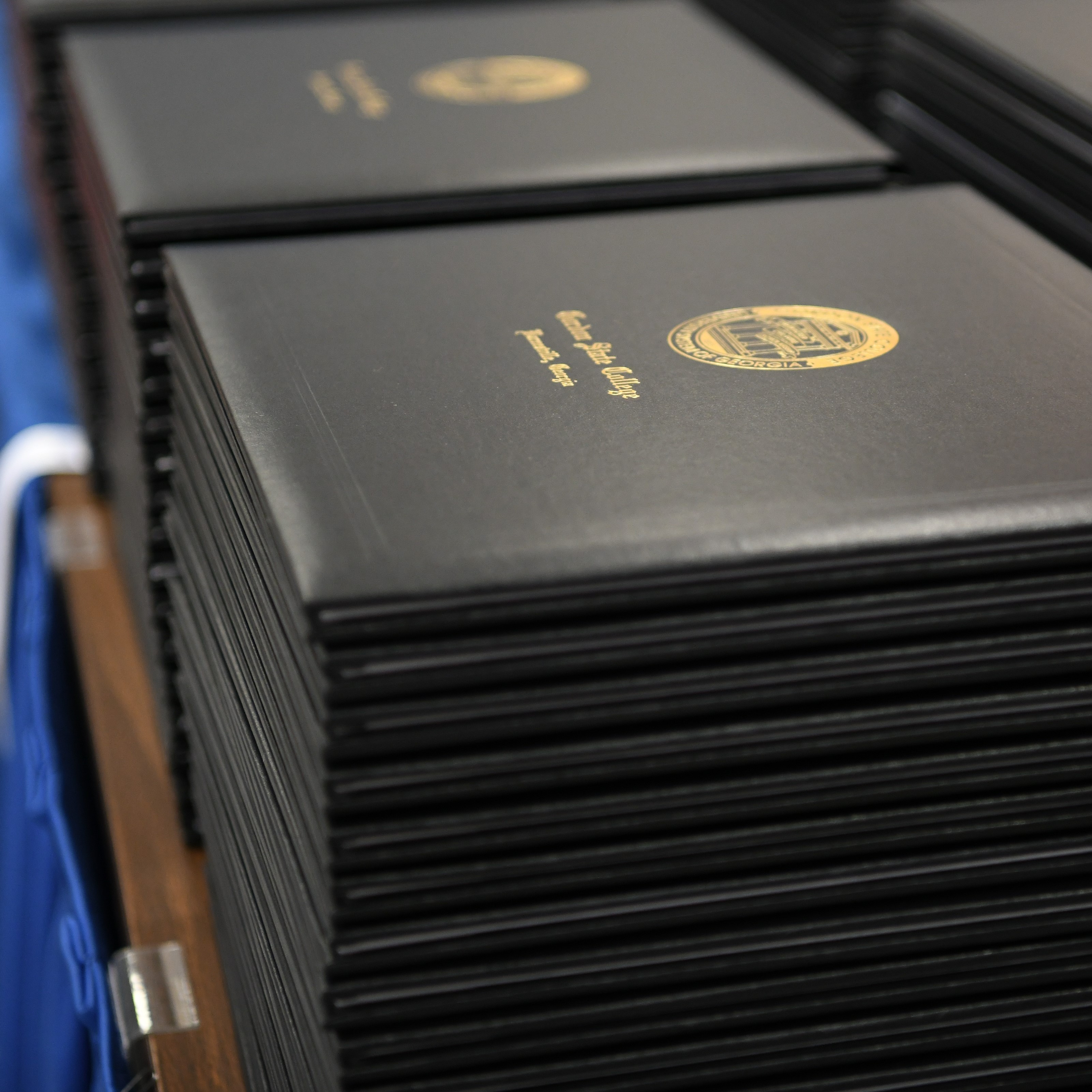 BY: KATHERYNE A. FIELDS, Gordon State College Director of Marketing
Gordon State College's Class of 2020 may always be the class of perseverance. Highlander Nation celebrated this milestone as 269 graduates turned their tassels with a virtual ceremony Friday.
"Given the fact that you have had to endure a mid-semester transition to remote learning, make plans to stabilize housing accommodations, re-learn how to greet friends and loved ones using elbows and figure out how to access the D2L content and not drop the internet signal is proof – you can do just about anything," said President Kirk A. Nooks in his video address.
In mid-March, Gordon transitioned to remote learning and postponed or cancelled on-campus or off-campus events, including commencement, per the University System of Georgia following the Centers for Disease Control and Prevention (CDC) guidance to avoid large gatherings in response to the COVID-19 pandemic. Plans for an in-person celebration in August are pending guidance from the CDC. 
Graduates were recognized individually with a photo as Provost and Vice President for Academic Affairs Dr. C. Jeffery Knighton presented 125 baccalaureate degree candidates and 144 associate degree candidates to President Nooks for confirmation of their degrees. Baccalaureate degrees represent 46.4 percent of all degrees awarded this graduation, which is the highest percentage on record for baccalaureates conferred and part of the college's strategic plan.
Bachelor of Science in Nursing served as the largest group at 33 graduates for spring commencement. For the academic year, the largest degree group is the Bachelor of Science in Human Services at 48 total graduates combined from fall and spring.
Thirty-five students earned the honor of Cum Laude (3.5 to 3.79 Grade Point Average), seven students received the honor of Magna Cum Laude (3.8 to 3.89 GPA) and 15 students earned the distinguished honor of Summa Cum Laude (3.9 to 4.0).  In addition, Katie Basford, Katie Jannsen and Hailey Suarez completed all academic requirements for the Honors Program and have earned the Honors Medallion and Honors seal on their diplomas.
Participating in the ceremony were Mace Bearer and Grand Marshal Dr. Erik McCarthy and limited faculty members including Dean of the School of Business, Liberal Arts, and Social Sciences Dr. Barry Kicklighter; Dean of the School of Education, Mathematics, and Applied Sciences Dr. Joseph R. Jones; Dean of the School of Nursing, Health, and Natural Sciences Dr. Victor H. Vilchiz plus Professor Lisa Ferguson and Dr. Peter Boltz, who served as announcers.
Student representatives from the Class of 2020 included Kaleb Holton, who delivered the invocation, Lyric Ford, who addressed her peers, and Suarez, who encouraged her class to embrace their purpose in her benediction.  
Director of the Gordon Choral Program Dr. J. Xavier Carteret opened in song with Knighton to The Prayer. Carteret closed the program with the institution's Alma Mater, along with a virtual choir of faculty, staff and students.
"Despite the ups and downs of the past eight weeks, today you can look into the mirror, or into the eyes of supporters who are sitting with you right now and know that it was worth it," Nooks said. "Simply put, to get to this point of the journey it required focus. Today's graduating class will earn the right to an honorary double major in Focus!"
"Whether you are one of the 46 first-generation college students, or an Adult Learner as 22 percent of this graduating class, you are now committing to representing Highlander Nation as having the EDGE. Today, for the 265 graduates, you will start writing the next chapter in your Book of Life."
To view the virtual ceremony on YouTube, visit: https://youtu.be/lUjmTFophWQ .
Gordon Grads are asked to post their photos on social media platforms with the designated hashtag, #GSCGrad2020.