Gordon State Temporarily Waives SAT/ACT Scores for Admission
First-year students applying to Gordon State College for the Summer 2020 and Fall 2020 semesters can be admitted without an ACT or SAT score with the required 2.0 GPA. In light of the decision made by the College Board and ACT to suspend the availability of testing during the COVID-19 virus pandemic, prospective students applying for admission in Fall 2020 will not be required to submit an ACT or SAT score.
Dr. John D. Head, Vice President for Enrollment Management and Student Affairs said, "My heart goes out to the students across Georgia and this country who have had their senior years upended by the COVID-19 pandemic.  The last thing we would ever want to have happen is for their college plans to be impacted or put on hold because the testing dates were cancelled.  I applaud this decision and am confident that the new class of Highlanders will be ready and prepared to begin their freshmen year at Gordon State College.  The faculty and staff at GSC are eager to welcome them to our family and we are all looking forward to what the 20-21 academic year holds."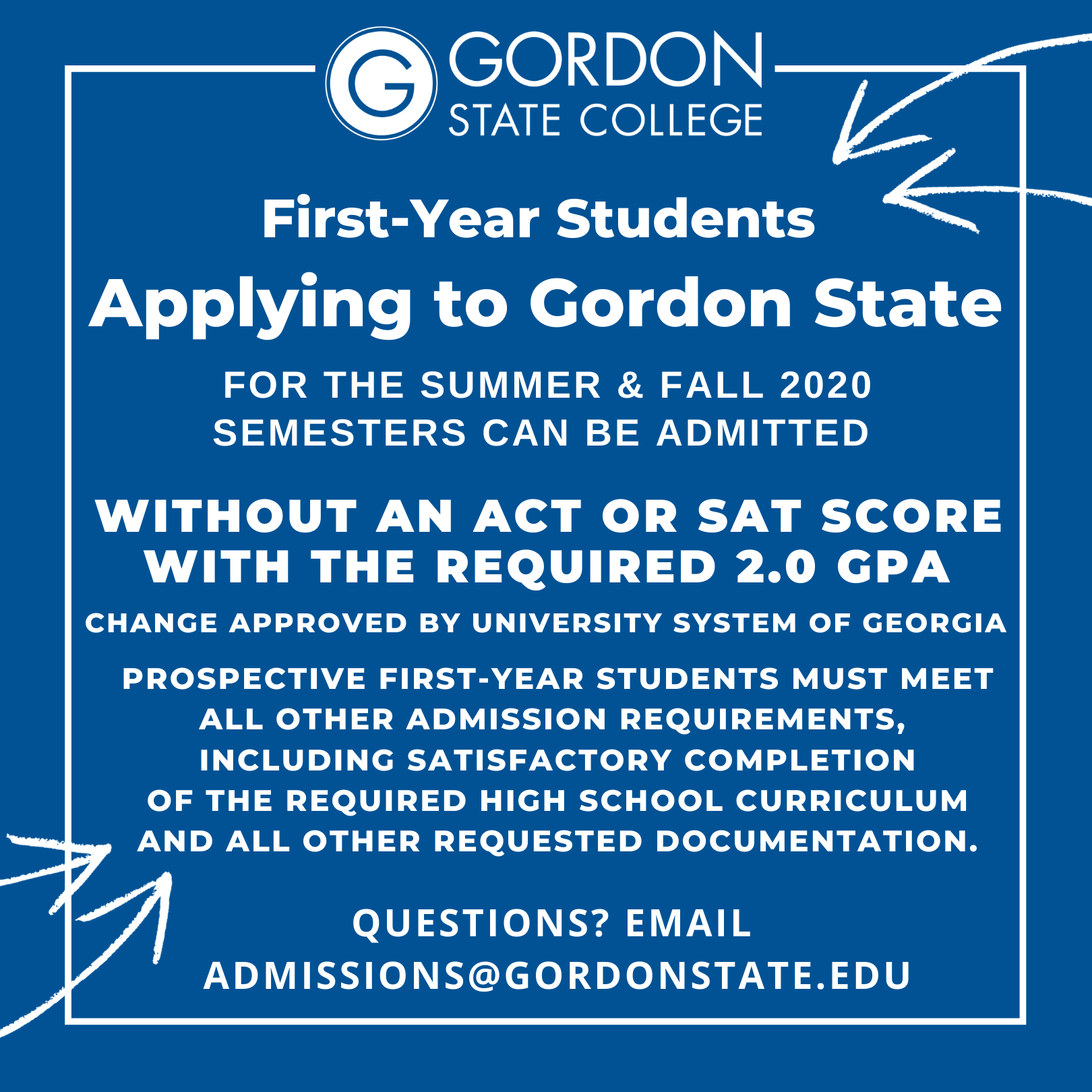 The scores are used by most U.S. colleges and universities as part of the application process to assist in the college acceptance process. The College Board and ACT voted to suspend all upcoming ACT and SAT testing dates. The College Board stated in a Tweet that all students who registered for the SAT will receive refunds and that additional SAT testing opportunities would be provided as soon as possible. This change for admissions for Summer and Fall 2020 semesters has been approved by the University System of Georgia. In the absence of test scores, prospective first-year students must meet all other admission requirements, including satisfactory completion of the required high-school curriculum and all other requested documentation.
The Office of Admissions at Gordon will continue to process applications as normal. Students can check the status of their applications online at https://www2.gordonstate.edu/application-status-check/ . Any questions can be directed to admissions@gordonstate.edu.  
Gordon State College continues to operate in a limited capacity with essential personnel on campus.  All visitors to campus are required to seek service at the Student Services Center, at the corner of Spencer and College, open Monday to Thursday 8 a.m. to 5 p.m. and Fridays from 8 a.m. until 12 noon.