---
June
Barnesville-Lamar County Meet and Greet
June 7, 2018 - Dr. Nooks and his wife, Mrs. Alison Nooks, had the pleasure of spending the afternoon with the community members of Lamar County. During a presidential meet and greet, the president, Dr. Kirk A. Nooks, had the opportunity to engage with multiple individuals and learn more about the community.
First New Student Orientation
June 15, 2018 - New Student Orientation, often referred to as NSO, was the first time, Dr. Nooks had a chance to introduce himself to incoming freshman. After student leaders opened up the program, Dr. Nooks shared a presentation expressing his excitement to partner with the students during their education journey while at Gordon State College.
Back to top
---
July
Student Services Center Ground Breaking
July 12, 2018 - The new Student Services Center being built on Gordon State College's campus will serve as a building that allows the admissions process to be as seamless as possible for students. Admissions, financial Aid, and a component of the business office will be within steps of each other in the new building. Construction on the Gordon State College Student Services Center at the corner of College Drive and Spencer Street is expected to begin early July 2018 with an anticipated completion date of early summer 2019. Dr. Nooks and others are scene breaking ground on what will be the future location for the Student Services Center.
Transition Toolkit
July 24, 2018 - Dr. Nooks hosted his first of nine Transition Toolkits on July 24, 2018. Each toolkit unpacked the same message; How to Remain Relevant. The session started off with a video and ended with dialog among colleagues and friends. Dr. Nooks' purpose for hosting the sessions, center around his focus to share his vision with the campus and where he intends to take the college.
Back to top
---
August
Student Success Summit

August 1, 2018 - On Wednesday, August 1 2018 the entire Gordon State College campus was closed to allow the faculty and staff to come together and collectively learn about the students the institution serves. Special guest, Dr. Tristen Denley, joined the Gordon State College Highlander family and shared insightful information during his address to faculty and staff. Likewise, Dr. Nooks followed up and gave similar information for the college to digest and comprehend. Later on, all employee's participated in sessions where classes were made available for individuals to take advantage of learning something they did not know before.
Move-In Residence Day
August 4, 2018 - During the Saturday before classes began, Gordon State College welcomed over 800 students into the residence halls. For some, this day was a new experience, for others, it was coming back for another year of learning. Dr. Nooks, along with his leadership team, alumni, and athletic teams all came together to help students move into their residence halls. Although the day was blazing hot, the volunteers from each group made move-in day a cool experience.
President Move-In Day to Residence Hall
August 5, 2018 - Students were not the only ones moving into the residence hall. Dr. Nooks, president of Gordon State College, also moved into the Commons B resident hall and lived in his very own room for 3 weeks. During this time he engaged with all students and especially engaged with the young men of the African American Male Initiative.
Late Night Breakfast with President's Cabinet
August 6, 2018 - Right before classes got underway Dr. Nooks and his cabinet members all participated in serving food during the Late Night Breakfast hosted for students.
Inaugural Residence Life Convocation
August 7, 2018 - Under the leadership of the Residence Life director, Dr. Tonya Coleman, and her entire team, Gordon State College hosted its first ever Inaugural Residence Life Convocation. Accompanied by his wife and members of the Gordon State College faculty and staff, Dr. Nooks gave an address to the students that welcomed them with open arms and encouraged them to keep their education first. He also reminded them to rely on the help of the resources around them to succeed in college and life.
African American Male Initiative
August 8, 2018 - Wednesday night, Dr. Nooks along with the advisors of the African American Male Initiative (AAMI) gathered together to celebrate the young men who dedicated their school year to participating in the program.
Power to the People
August 11, 2018 - The country's first electric membership cooperative was dedicated by President Franklin Roosevelt on August 11, 1938, before a crowd of 50,000. On August 11, 2018, Gordon State College and the surrounding community members and friends dedicated the opening of an exhibit about rural electricity at Gordon State College. To celebrate the 80th Anniversary, former Secretary of the Smithsonian Institution and President Emeritus of the Georgia Institute of Technology, Dr. Wayne Clough, delivered the keynote at this event and greetings from Haven Luke, great-grandson of President Roosevelt were given.
Barnesville Rotary Speaking Engagement
August 21, 2018 - Dr. Nooks took his message to the community on August 21 to the residence of the Lamar County during a speaking engagement at the Barnesville Rotary Club Meeting.
---
September
100 Day Report
September 10, 2018 - Dr. Kirk Nooks shares his 100 Day Presidential Transition Report with colleges, students, media, and the community. To view his full report, visit the 100 Day Report.
Gordon State College Women's Soccer Game
September 18, 2018 - With such a strong start off to the season, Dr. Nooks came out to celebrate and support the Gordon State College Women's Soccer team. The ladies are currently 4-0 and have a tremendous season ahead of them.
Barnesville-Lamar County Rotary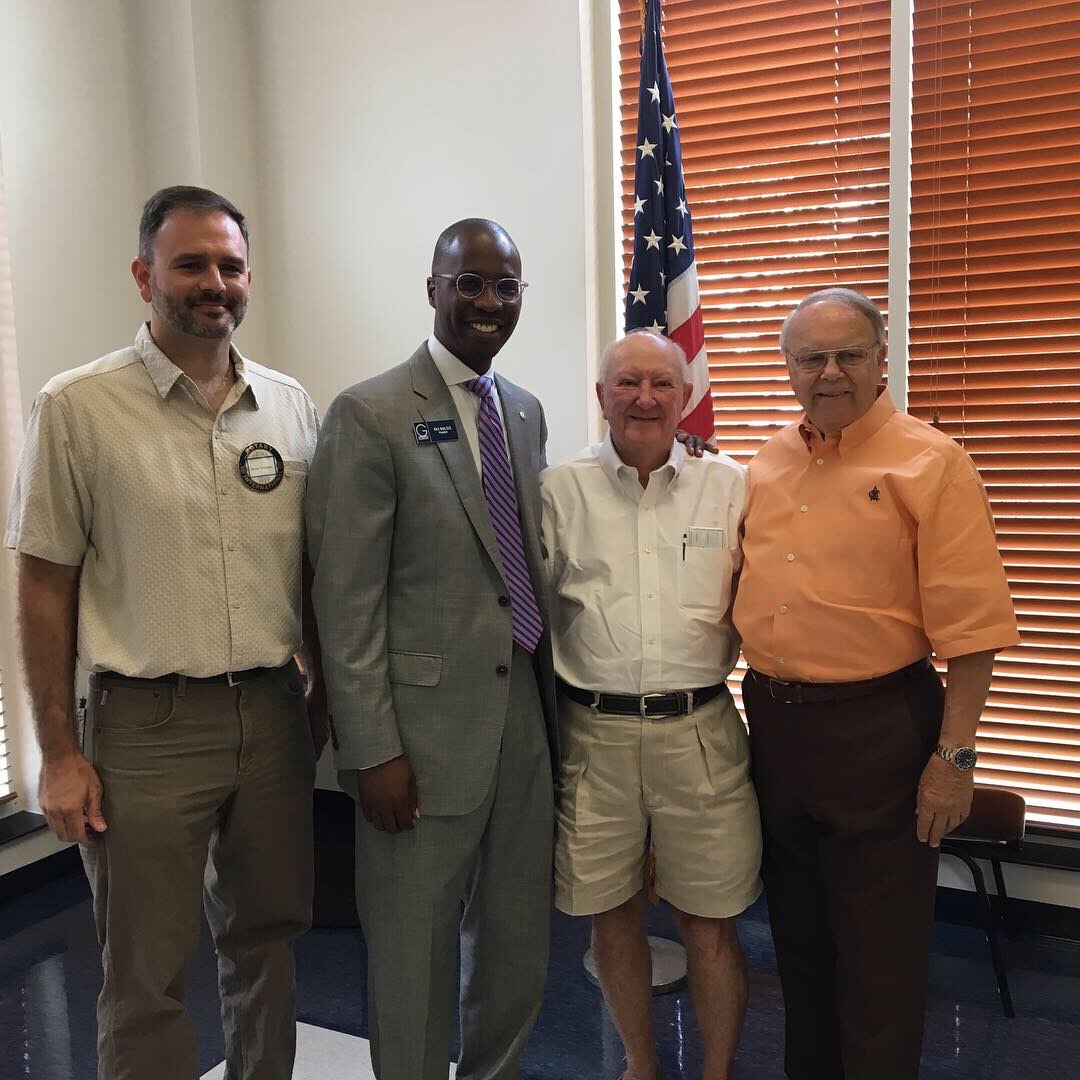 September 25, 2018 -As a newly inducted member of the Barnesville-Lamar Rotary Club, Dr. Nooks had the opportunity to share an overview of his 100 Day Presidential Transition Report with the club members. He touched on his five target points and shared a portion of the 100 Day Report video. All of this information can be found here
Lip Sync Battle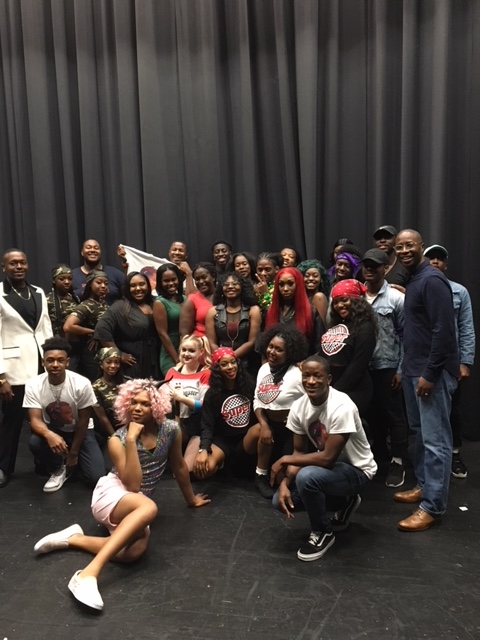 September 26, 2018 - Last night, Highlander Nation came together and enjoyed the Lip Sync Battle event! A huge shout out to the participants and those who attended. Congratulations to Ms. Lillian Camp, the winner of the competition. I was so encourage and moved by the support shown by the entire student body in attendance. Hats off to Mr. Alvin Stephens, Residence Assistance, for a job well done.
---
October
I-75 Corridor Coalition Speaking Engagement
October 04, 2018 - Invited by the committee, Dr. Nooks had an opportunity to share with a number of representatives from all counties surrounding I-75, his vision and plan for keeping Gordon State College relevant. The crowd was engaged and eager to hear all about GSC. Questions were asked and relationships were built with an amazing group of individuals.
 Funnel Cake Fun
October 15, 2018 - Students had the opportunity to receive free funnel cakes with the help of Dr. Nooks passing them out.
Student Town Hall
October 15, 2018 - The Student Government Association had the opportunity to host their first official Town Hall Meeting of the school year with Dr. Nooks and Dr. Head, Vice President of Enrollment Management and Student Affairs. Many ideas were shared and many updates were given. With the support of Dr. Nooks and others from the Leadership Team, the SGA did an amazing job hosting their first Town Hall of the academic year.
Meriwether Rotary Club
October 16, 2018 - Dr. Nooks had the honor to speak to the Meriwether Rotary Club and their members. As Gordon State College continues to build its Strategic Plan, it is important to recognize and appreciate all of our 14-County Service Region Area and their community members.
Macon-Bibb Listening Session
October 22, 2018 - Dr. Nooks hosted his very first off-campus Listening Session with The Honorable Robert A.B. Reichert, Mayor of Macon-Bibb County by his side. The crowd was full of supportive colleagues and Macon-Bibb County community members who were engaged and interactive.
Highlander Jam Fest
October 24, 2018 - Students, Faculty, and Staff all joined together to celebrate and acknowledge all collegiate sports team on the campus. The student interaction was full of spirit and support. The night consisted of 3-Point Shoot Outs, a dunk contest, and more! The Jam Fest was a great kick-off to the remainder of the year.
---
November
The Twelfth Night
November 12, 2018 - On November 12, Gordon State College students and faculty put on a well-executed play. The audience was filled with excited Highlanders, local high school students and community members. We cannot wait to see what is next for the Theatre Department!
Turkey Trot
November 16, 2018 - On November 16, faculty, staff, and students gathered at 6:00 a.m., to participate in the annual Turkey Trot. Dr. Nooks maintained a pace that allowed him and other students to finish with smiles and laughs as they crossed the finish line.
GSC Chorus & Highlander Big Band
November 19, 2018 - November 19 was a night filled with musical sounds from the Gordon State College Chorus and Highlander Big Band. Dr. Nooks and his wife, Alison, enjoyed all selections played along with the community members and students. Dr. Boumpani and his entire team put on a great show.
Cram Jam
November 28, 2018 - As an annual tradition, on November 28, Highlander Dinning Hall was filled with students preparing to take their finals. Dr. Nooks and his leadership team got a chance to serve, engage, and encourage the students to finish the semester strong.
GSC Men's Basketball vs. West Georgia Technical College
November 28, 2018 - On November 28, the Gordon State College Men's Basketball team celebrated a win over West Georgia Technical College with a final score of 96 to 72. Dr. Nooks along with the students in the crowd cheered the team on as they lead Highlander Nation to a victory!
---
December
2018 Fall Commencement
December 7, 2018 - On December 7, Gordon State College celebrated its 2018 Fall class of graduates. In his address to the Fall 2018 Graduating Class GSC Alumnus, Mr. Fredrick Bailey, came back to his alma mater and delivered an unforgettable message. He told the graduates to "…have the attitude of a lion." His encouraging words, unforgettable memories shared, and connection with the audience left many graduates in the room feeling motivated, empowered, and excited to start the next journey in their life.
Strategic Planning Summit
December 12, 2018 - December 12 was a day filled with commitment, collaboration, and creative thinking as faculty and staff pulled together to kick off the process of creating Gordon State College's next Strategic Plan. With over 90 participants in the room, the future of GSC will continue to move forward as we work together as a Highlander family!
GSC Holiday Lunch
December 12, 2018 - What better way to close out a fantastic semester than with a celebratory lunch! On December 12, the GSC Highlander family got together one last time, before the semester came to an official end, to dine and enjoy each other's company. Thanks to our partners at Sodexo, the event was delicious and satisfying!
---
January
Guidance Counselor Visit
January 11, 2019 - On January 11, Gordon State College Admissions team had the pleasure of hosting High School Guidance Counselors from all over Georgia. During their visit, the counselors enjoyed lunch and received information on how GSC wants to continue to partner with their high school to ensure all students and their success comes first.
Toastmasters Speak-a-Thon
January 18, 2019 - Filled with student participation, the Highlander Dinning Hall hosted a number of students on January 18 who prepared speeches and shared them with fellow Highlanders. Two of the participants choose a Martin Luther King Jr. speech to recite and showcase what the power of moving forward looked like. Overall, the event was well received and liberating.
Martin Luther King, Jr. Day of Service
January 18, 2019 - Early in the morning on January 18, over 50 GSC students gathered to provide a day of service to our home county, Lamar. With a warm heart and helpful hand, change was made through community service of raking up leaves throughout the community.
---
February
Regent's Scholarship Gala
February 08, 2019 - Dr. Joe Mayo, Gordon State College Professor of Psychology, was recognized at the Regents' Scholarship Gala. Mayo was awarded one of two Scholarship of Teaching and Learning Awards given annually by the USG Board of Regents. Dr. Mayo has been teaching at Gordon State College since 1989.
Lamar County Concerned Citizens
February 11, 2019 - As always, it is a good time when Dr. Nooks can engage with the community and spread the good news of Gordon State College. On Monday, the Lamar County Concerned Citizens, hosted by Gordon's very own College Supervisor, Brenda Ross, who serves as president of the organization, invited Dr. Nooks to come and speak to a diverse group of community members and leaders. The food at Downtown Eatery at Milner Place owned by Tracey Alford, where the engagement was hosted, left everyone full of food and full of information!
Pine Forge Academy
February 17, 2019 - Gordon State College had the pleasure and honor of hosting The Pine Forge Academy Choir. Their voices are gifts and sounded amazing. The audience was moved throughout the entire concert.
 Homecoming Game
February 20, 2019 - Gordon State College hosted its first Homecoming since joining the University System of Georgia in 1972. The Men's Basketball team defeated Georgia Highlands in a nail biting game. Gordon State College prevailed and won 85-84! What a way to kick off and set a tradition for Gordon State and the many Homecomings ahead! Highlanders Forward!
---
March
Honors Program
March 04, 2019 -  - Gordon State College has the privilege of being the home of many great and talented students. The Honors Program is one of the many organizations that celebrates and highlights our unique students. Dr. Nooks had the pleasure of stopping by to meet the students and engage in conversation to understand what they have been doing to enhance their presence on campus. Along with the rest of the campus, the Honors Program is well on its way to keeping the momentum of; Highlanders Forward!
---
April
Student Art Show
April 18, 2019 - Students across the campus here at Gordon State College are talented, gifted, and carry a passion for being creative! April 18 kicked off the Student Art show and many Gordon State College artist were able to have their work displayed for others to enjoy. Dr. Nooks along with other faculty, staff, students, and community members were able to support and experience the wonderful talent and celebrate the creativity shown through the art pieces.
Atlanta Guitar Trio
April 18, 2019 - Thursday night, Gordon State College heard the magical sounds of the Atlanta Guitar Trio. The talent showcased was soothing and brought smiles to many faces. All those who attended were left with a lasting impression of a new love for the music world.
Highlander EDGE Awards
April 22, 2019 - Monday was a day filled with recognition of many faculty and students. Every year, students select a faculty/staff member of the Gordon State College Highlander family who they believe exemplifies the Highlander EDGE (Educated Innovators, Dedicated Scholars, Gifted Communicators, and Ethical Leaders). In return, those nominated also select a student to be recognized for having the Highlander EDGE as well. This year was no different. Smiles and warm hearts filled the Fine Arts Auditorium as we celebrated all those who were selected and honored.
Lunch in the Amphitheatre
April 23, 2019 - What a great day to have lunch outside! On April 23, the entire Gordon State College family had lunch in the Amphitheatre. Our partners at Sodexo were able to cater a special lunch outside and provide all Highlanders with a fulfilling experience. The institution enjoyed a performance by the Cheer and Dance Team as well as a spoken word by two Theatre major students. A collective dance was shared among students, faculty, staff, and Dr. Nooks. Harry The Highlander also made an appearance!
 Lambdin on the Green
April 24, 2019 - A night with the stars! On April 24 Gordon State College along with the Gordon State College were able to host a scholarship receptions that honored and recognized students of Gordon State College who received financial assistance through scholarships provided by the Board of Trustees for GSC. We also had guests and future Gordon State College Foundation Board Members in attendance to kick off the start of a new academic school year.
Gordon State College Student Choral
April 25, 2019 - The beautiful sounds of our Gordon State College Student Choral group filled up the entire Fine Arts building on Thursday night. The show was phenomenal and the talent never ceases to amaze the audience. Good well done to our students.
Investiture
April 26, 2019 - On April 26 Gordon State College welcomed over 200 external guests to include 24 University System of Georgia institutions, 8 Mayors, 3 Georgia Representatives, 1 Georgia Senator, and others to celebrate the Investiture of Gordon State College's 4th President, Dr. Kirk A. Nooks. The Chancellor, Dr. Steve Wrigley, invested Dr. Nooks and officially presented him to the room. The monumental occasion was celebrated throughout the entire week and allowed for all students, faculty, staff, and community members to understand the Power of We.
Sneaker Gala
April 27, 2019 - Hosted by the Inaugural Committee, Gordon State College closed off the Inaugural Week with a Sneaker Gala. The Gala was student focused and allowed the students to enjoy one last celebration before Finals. A number of faculty and staff showed up as support and all those who attended danced the night away.
---
May
Alumni Weekend
May 3, 2019 - May 5, 2019 - This year, Gordon State College celebrated the Golden Year for the Class of 1969. Among the alumni who graduated in 1969 were others who graduated after the Golden Year class. The weekend was filled with memories from the past and the creation of new ones. Each year, the weekend allows for all alumni to tour the campus and see all the new and exciting things happening on Campus! We look forward to continuing the celebration of all Alumni each year.
Spring 2019 Commencement
May 10, 2019 - Congratulations to the graduating class of 2019! On May 10, the faculty and staff of Gordon State College were able to celebrate the milestones and accomplishments of ALL 2019 graduates. We are proud of each person who received their degree and welcome them with open arms to the Gordon State College Alumni Association.